Heras fence covers, banners and scrim are an effective way of advertising your brand, event or construction project. Printed Heras fence covers also help hide unsightly fences and keep your construction or event safe and private. Our range of Heras fencing covers and
Heras Fence banners
are available in a choice of materials, including
PVC mesh
and
Polyester airmesh
.
PVC MESH HERAS FENCE COVERS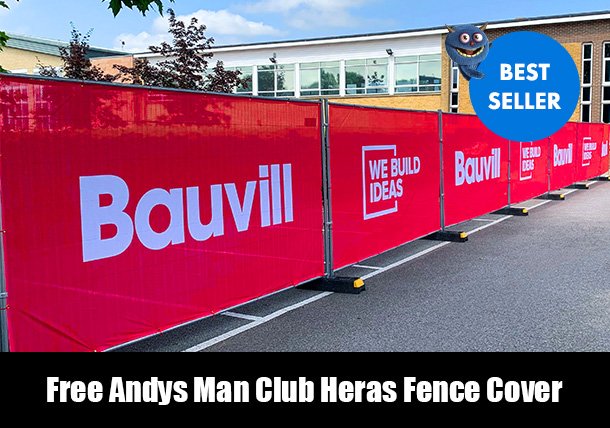 Polyester Airmesh Heras Fence Covers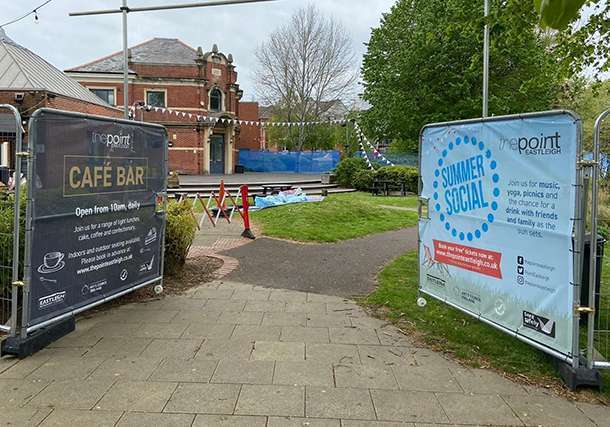 Heras Vehicle Gate Covers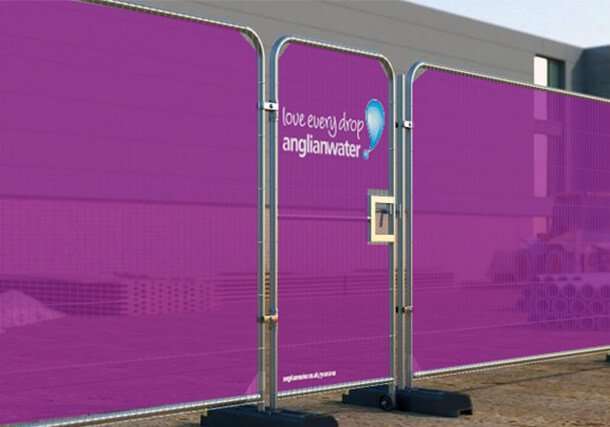 Heras Pedestrian Gate Covers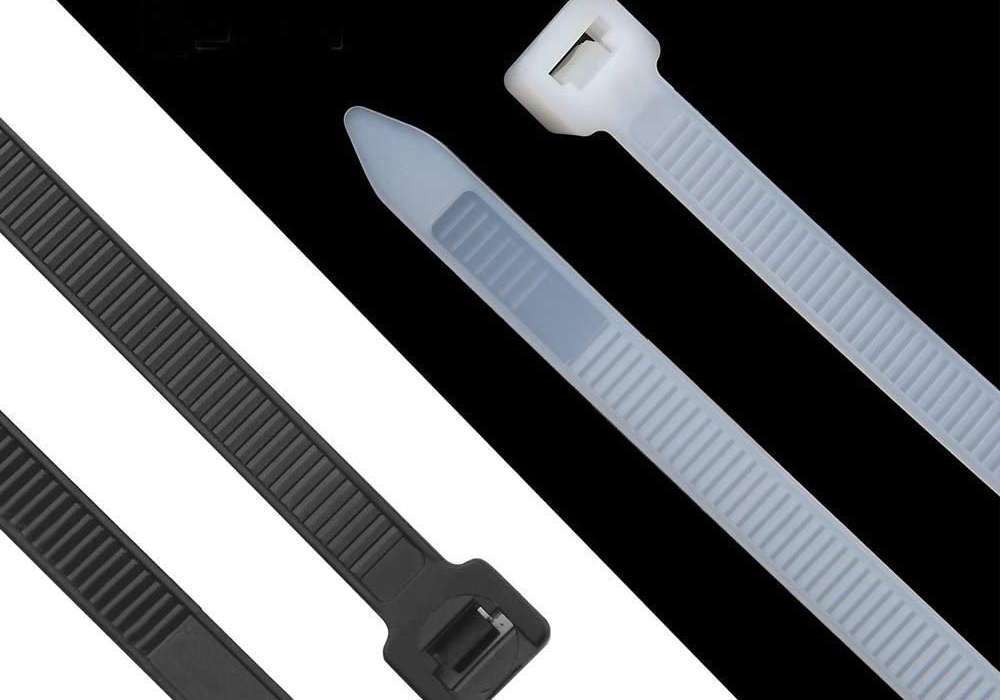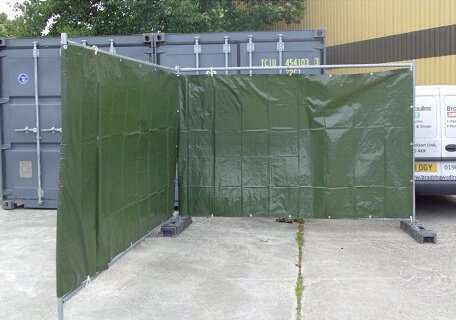 What is Heras Fencing?
Heras fencing is a type of fencing made up of multiple mesh fence panels. They're typically used at construction sites or events for safety, privacy and sometimes advertising. Heras fences are lightweight and relatively quick and easy to put in place. Heras fencing rarely needs planning permission and are often used instead of hoardings as they can be reused for multiple projects or events. As standard, Heras fence panels are 3.5 metres wide by 2 metres tall and weigh around 16kg.
Why are they called Heras Fences?
Back in 1952, a company called Hewerk Industrie Eindhoven were the first to embrace standardisation and serial fence manufacturing. In 1958, they rebranded to "Heras" and have been associated with the fence panels ever since.
With an usual name like Heras, we've also known them to be called:
Harris Fencing
Aris Fencing
Herris Fencing
Haras Fencing
Should I use a heras fence cover or banner?
Whether you choose a heras fence cover or Heras fence banner depends on:
how you want your Heras fence to look
what budget you have for Heras fence branding
Below is an overview of the benefits of each option.
1. Heras fence covers
If you're looking to cover your entire fence panel, Heras covers are the right choice for you. Available from £41 in full colour print on PVC or Airmesh, Heras fence covers will really make your brand stand out. You can also use multiple designs at no extra charge to display different messages around your construction site or event. They can also be washed and reused making them a popular choice for long-term projects.
What size are Heras fence covers?
As standard, Heras fence covers are made slightly smaller than the Heras fences themselves measuring 3.375 metres wide by 1.78 metres tall. They then fit to your Heras Fence covers using eyelets and tie wraps.
2. Heras fencing banners
Heras fencing banners are an ideal option if you're looking to get some advertising on your Heras fence without breaking the bank. Heras fence banners cover a smaller area of your fence and are available in PVC or Airmesh from only £11.70.
What size are Heras fence banners?
Heras banners are 3.375 metres wide and are available in two different heights; 50 or 70 centimetres tall. You can then fit your banner to your Heras fence using eyelets and tie wraps.
Other Heras fence netting options include Heras fence scrim and Heras fence netting/tarpaulin. Below is an overview of each one and whether they could be ideal for you.
Heras fence scrim
Heras fence scrim is similar to Heras fence covers. However, the print is just on one side of the fence panel. This is ideal for events or situations where you only have one side of the fence on display.
Heras fence tarpaulin
If you're not bothered about a custom printed fence screen, then our range of Heras fencing netting is ideal for you. Available from £8.25, our standard or flame retardant tarpaulin is strong, durable and available in a choice of colours.
What material should I choose for my heras fence cover/banner?
Our Heras fence covers and banners are available in two different B1 fire rated materials. Here are the benefits of each one:
1. Polyester Airmesh fence covers
Airmesh fence covers and banners are a more premium option for your Heras fences. Made from 115gsm polyester airmesh, these fence covers are great for windy conditions due to their high air permeability. Available from £54, airmesh fence covers can be washed and reused making them a great investment for your brand.
2. PVC Mesh fence covers
PVC mesh fence banners are available from £41, making them a cost-effective fence banner option. Measuring 300gsm, they're very durable, meaning they're ideal for construction sites and events.
How much are heras fence covers?
Our Heras fence covers and banners start from £11.70. Below is a table of our fence cover options and the prices they start from:
| | | |
| --- | --- | --- |
| Heras Fence Branding | PVC Mesh | Polyester Airmesh |
| Heras Fence Covers | £41 | £54 |
| Heras Fence Banners | £11.70 | £14.65 |
| Heras Vehicle Gate Covers | £31 | £34 |
| Heras Pedestrian Gate Covers | £18 | £22 |
For plain fence covers, our HDPE Heras fence tarpaulin is available from £8.25.
Does it cost more for multiple Heras fence cover designs?
You can have as many designs as you want, at no extra charge! Use multiple designs to create a story at your event or construction site. Email or give us a call and we'll help you put together a display to remember.
How do I fit heras covers/banners to fences?
Heras fence covers and banners come with metal eyelets and reinforced edge strapping. Simply feed cable ties through each eyelet and around your Heras fence panel to tie your cover or banner in place.
FREE DELIVERY
The majority of our products include FREE delivery on orders over £250.00 and typical lead times are just 7 working days, with an EXPRESS Service available on request.
FAIR PRICES
We believe we offer some of the best prices in the UK all backed up with our 10% PRICE BEAT GUARANTEE. We also offer bulk discounts and trade prices for resellers.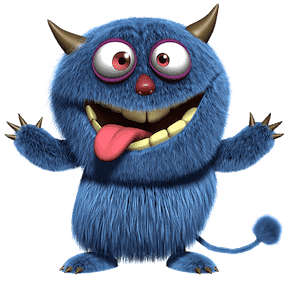 EASY ORDERING
We offer a personal service to all our customers, Simply browse our products online and then call or email us to place an order, we are always happy to talk and advise.
FREE DESIGN SERVICE
No artwork ? No problem.
Our in house designers are available to create artwork to suit your brief, FREE OF CHARGE, no obligation.
Quality as standard
We specialise in large format full colour and dye sublimation printing for weather resistance, strength, and durability. Our top-quality products match the service you should expect. For a fast and efficient service, contact us today, we are always happy to talk and advise. We supply direct to brand owners, event management, construction, and signage companies. We also welcome enquiries from trade and re-sellers.