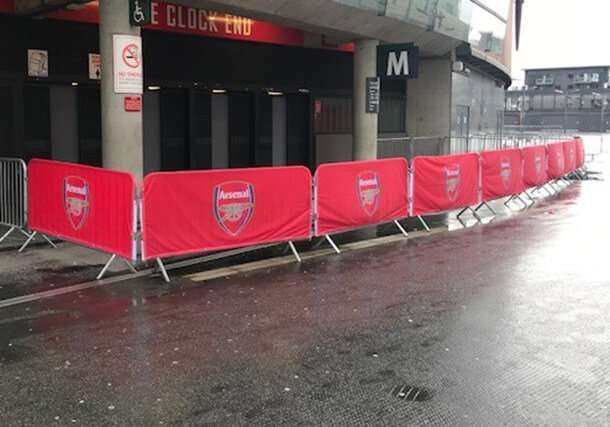 Crowd control barriers can double up as lucrative advertising banners with the use of printed barrier jackets at mass-attended events such as festivals and concerts, sports games, conferences.
Events that will be attended by large numbers of people, sometimes tens of thousands, will all need security provisions which can offer great marketing potential. These events make for great marketing opportunities and can help turn the security of an event into a way of generating new leads for your business. Here are two of the main ways that investing in crowd control barrier covers can offer a huge platform to market your brand and business.
Brand awareness
Your brand will front and centre of the event and will be seen by most attendees, this which will lead to some of them wanting to find out more about your business. Getting your brand in front of a large number of people can be a complicated and expensive endeavour, but with crowd barrier covers your brand can effortless be put in front of tens of thousands of people. By strategically selecting the right type of event you can make this form of advertising even more effective by ensuring you get put in front of the right and relevant target audience.
Media exposure
Crowd control barriers that are widely dispersed around the event are often indirectly captured by the media and broadcasted to a wider audience who are not at the event. The larger the events will often have a large amount of press coverage and media attention. The perimeters of festival and football stadiums regularly have lots of media recording the surrounding atmosphere. If television cameras are at the event, these can broadcast footage with your branding in the background to a television audience and generate more brand awareness for your business.
Monster Mesh supply a wide range of high-quality, bespoke crowd control barrier covers. For more information contact us today on 01709 432001.