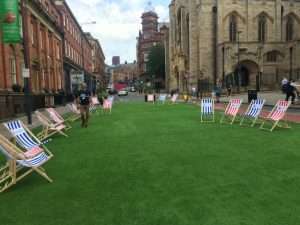 With Spring finally here and Summer fast approaching, branded deckchairs are a great marketing investment for any progressive and contemporary business. Business can embrace their fun and lively side by associating their brand with printed deckchairs.
Branded deckchairs are traditionally placed at mass-attended events such as concerts, festivals, product launches, retail promotions, beach activities and parks, and are surrounded by happy and well-spirited members of the public. This means they will generate mass exposure for your brand in front of crowds of potential customers who may match your target audience. Deckchairs also generate second-hand exposure as a result of the photos that posing visitors will share across their social media platforms.
Customised printed deckchair are affordable, eye-catching and functional which makes them perfect for promoting a brand. Taking an otherwise ordinary functional item and adding a creative and hardwearing canvas you can transform these relatively ordinary deckchairs into a fantastic, cost-effective promotional method. The marketing potential is huge because by placing your brand in front of hundreds or thousands of members of the public will help to cement your brand in the minds of potential customers.
Increasing brand recognition is an extremely important marketing objective important. If a potential customer is in the market for a product or service you provide, the fact that they remember your brand from a printed deckchair at an event can be the reason for them giving you a call instead of your competitor.
At Monster Mesh, we supply the UK's largest selection of different sized promotional deckchairs, ranging from standard-sized to XXXL which can seat 4 people. We also offer a completely free graphic design service to create an eye-catching and attention-grabbing design for your branded deckchair.
For more information, contact a member of our team today on 01709 432001 and we'll be happy to help answer any questions you might have.