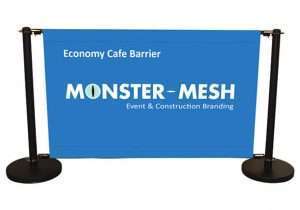 Promoting your business locally can be difficult, but an excellent way of doing so is by investing in branded café barriers. As well as serving a useful practical purpose, these barriers can prove surprisingly effective at increasing brand visibility and attracting customers.
Our range of branded café barriers are easy to assemble and are suitable for both indoor and outdoor use. Our premium models are made from stainless steel for an attractive look and excellent durability, and all our barriers are wind-resistant up to 25kph with a non-slip, non-marking base to make sure your floors aren't damaged. Another practical benefit of our café barriers is their amazing versatility as they can be used in a number of ways, including dividing rooms into distinct areas or outlining the perimeter of your store front or seating area.
Branded café barriers are also an excellent marketing tool for your business. They provide a simple, cost-effective way of expanding your brand's reach and visibility, drawing in customers and leaving a lasting impression on passers-by. Especially if your premises are located in a busy area, like a high street, a café barrier branded with your company's name and logo can really help enhance your business' appeal and its ability to stand out to potential customers.
Monster Mesh also provide a free artwork and design service with each order. If you've currently no artwork to hand, our in-house design team will be more than happy to create a smart, bespoke, eye-catching design to fit your brief.
If you're looking to make your business stand out from the crowd, Monster Mesh offer a wide range of branded café barriers, including starter sets to help businesses of all sizes get up to speed.
For more information on our café barriers and other products, feel free to contact us on 01709 432001 or by email at info@monster-mesh.co.uk.