Even if you're unfamiliar with the term hoarding, chances are most of us have seen hoarding signage, keeping us safe and hiding construction work going on in city centres or housing developments. Not only are hoarding panels an essential part of construction work, they also offer huge marketing and advertising potential.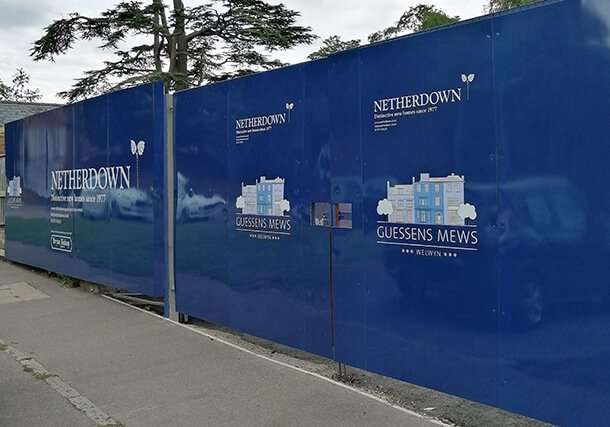 What does hoarding mean?
So, why is it called hoarding signage? A hoarding can be defined as temporary boarded fencing in a public area, which is why they are so commonly associated with building sites.
Why use hoarding signage?
There are two main benefits of using branded hoardings. Typically, hoardings are required for safety reasons onsite but can also be a cost-effective promotional tools for brands too.
Security
As well as health and safety and protecting the public from potential dangers on a construction site, hoardings can also keep your site safe and prevent theft or damage. Monster Mesh can even supply anti-graffiti panels to prevent vandalism.
Communication
Because site hoarding boards are so important for health and safety, hoarding graphics might also be a good opportunity to display safety messages and information about hazards and dangers.
Branding
Property develops typically choose to use their own branding on hoarding panels so that it builds brand awareness and makes it easy to identify who is responsible for a particular housing development. Retailers with a store under development or opening in a new location might also use branded hoardings to build public awareness.
Advertising space
While many building development companies choose to print their own marketing message or promote their own company, you can use the space for anything you want. Hoarding signage in a prime city centre location might also have advertising benefits for any number of companies and is a great opportunity to sell advertising space and bring in more revenue.
Monster Mesh supply site hoarding signage as either ACM (Dibond) or PVC hoarding panels at a standard size of 2440mm x 1200mm.
We can supply hoarding signage with full colour printed graphics for your construction project available unlaminated or with a matt or gloss finish for added protection and longevity. Contact us for more information.