A temporary form of signage, site hoarding is a prerequisite for any construction company that undertakes regular business work. Hoarding is required for security and safety principles to ensure the site remains a controlled area. When used well, your hoarding panels can also serve as an excellent marketing tool.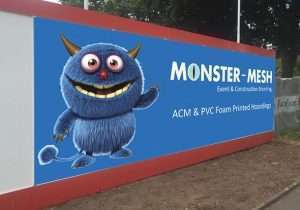 Below, we take a look at some of the many benefits site hoarding can have for you and your business:
Security
Site hoarding provides security for your construction site and is one of the main advantages of installing hoarding boards. Having hoarding panels around your construction site can help to negate the risk of theft and financial loss on-site. Plus, all construction companies must adhere to the Construction Design and Management Regulations which stipulates they must have a form of prevention for unauthorised persons entering the site.
Health and Safety
A further benefit of site hoarding is that it helps to protect the public from serious injury. Hoardings can make a passerby aware of many dangerous situations such as falling objects, noise, dust, roadworks, pedestrian walkways and vehicles movements going on in the area.
Information
Depending on the construction site and the budget of the project, you may be able to provide project information printed on the hoarding board. This can include a description of the project, a CAD or CGI mock-up of the site and even sales information if it is a new housing development or business park. Displaying this information can help to generate interest in the project from a sales and marketing perspective, but can also keep the peace in the local area.
Cost-effective Protection
One of the most beneficial elements of site hoarding is its ability to provide a cost-effective solution for your construction business. Our printed hoarding panels allow you to reduce protection and advertising costs, as our sustainable signage can be reused for future projects.
Easy Advertising
Hoarding signage is also a great way of advertising your brand. For example, you could utilise printed site hoarding signs for a shop opening, in order to showcase your brand or products before the big reveal.
If you require branded site hoardings for your next construction site project, please view our product range or get in touch with the Monster Mesh team for help.