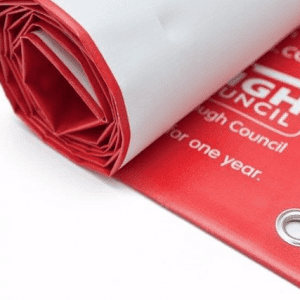 Advertising banners are one the most effective, low-cost ways to promote a brand, business or event. As well as being relatively cheap, an advertising banner can be taken down, rolled up, transported and reused which further maximises its financial benefit.
Monster Mesh supplies two types of vinyl advertising banners; PVC and mesh, both of which are extremely durable and can be displayed indoors and outdoors. The mesh banners are just as strong and waterproof, but the main difference is that mesh banners include tiny holes to allow the wind to pass through.
Monster Mesh's range of printed advertising banners can be used for a whole host of creative reasons, such as:
New sale – A great way to make the most out of an advertising banner and maximise its marketing potential is to use it to announce and promote a new sale.
Product launch – Spread the word of a new product by putting up a bright and eye-catching banner in a busy public space near your business.
Directions – If your shop or headquarters is slightly off the beaten track or a few minutes off a busy road, then you can use this traffic to let the passers-by know which direction and how far away you are based.
Brand awareness – Simply use a vinyl banner to promote your brand and boost your business' profile in the local area
Car boot sales – PVC banners are extremely common for advertising car boot sales and bringing them to the attention of the local community.
Bonfire night – The organisers of a firework display often use custom-printed PVC banners to advertise their event and these can be easily stored away for next year.
If you'd like to promote your brand or event without breaking the bank and capitalise on your local audience, invest in a custom printed advertising banner today. For more information about our PVC and mesh banners, contact Monster Mesh today on 01709 432001.