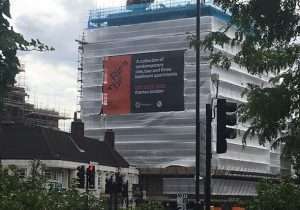 Branded scaffold banners are a fantastic way to put a temporary structure to good use. By using our scaffold signs, you will be able to transform a huge and open public space into a great place to get your message across to the masses.
Whilst the space of scaffold offers great potential, the design of the banner is also very important into getting the most out of this marketing potential. A bright and bold scaffold banner will be able to promote your brand by catching the eye and attracting the attention of every passer-by.
The specific design you choose for the scaffold sign will be determined by its purpose, whether it be to advertise a product, raise the profile of a brand, or generate a call or enquiry. However, the overarching purpose of a printed scaffold banner will be, in one form or another, to market your brand or business.
Scaffold banners can creatively work in line with your marketing strategy as they inform the general public and potential prospects about your business and enable you to advertise your business straight from your site.
The cost of scaffolding can be a huge expense for a business, but you can aim to recover some of these costs by transforming it into a piece of marketing. By innovatively capitalising on the open space that scaffolding provides this will allow your business to make the most of the huge marketing potential available and in turn generate new for your business.
Scaffold banners can help you reach different audiences depending on its placement and design. If the scaffold is erected in a city centre, then you could reach the local audience and relate your service accordingly. Similarly, if your scaffolding will be on an enclosed construction site, the design could be tailored in a way to build brand recognition and improve your reputation within the industry and amongst the construction professionals.
If you'd like more information about how a printed scaffolding banner can work for you, call Monster Mesh today on 01709 432001.