Event and Advertising Flags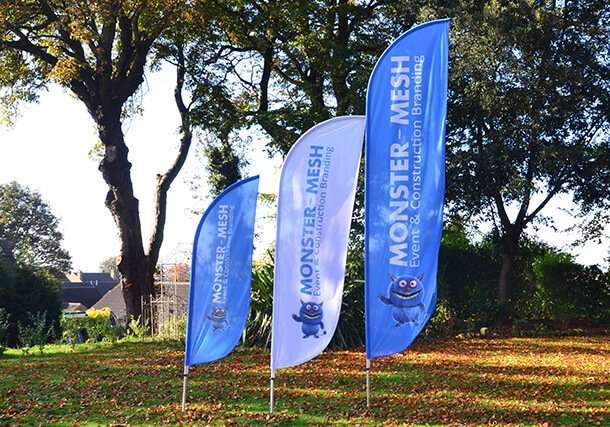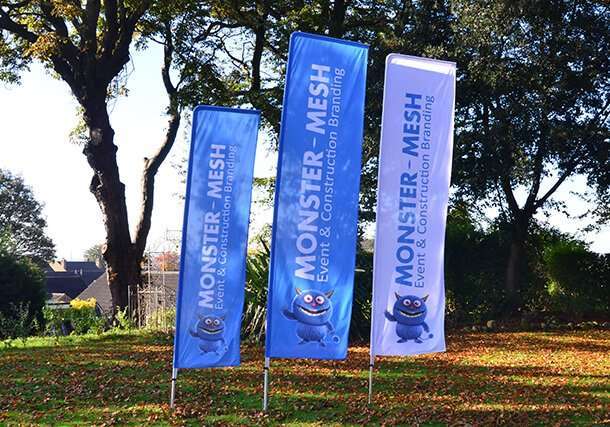 Monster Mesh Alu Square Flags
Event advertising flags help you stand out from the crowd at exhibitions and events. Custom printed flags are a cost-effective way to grab attention and get your message across.
With their quick and easy assembly and lightweight portability, advertising flags are perfect for all kinds of indoor and outdoor events. Plus, you'll benefit from our FREE artwork and design service to make sure you make the right impression with your promotional flags.
Types of Advertising Flags
At Monster Mesh, we offer a range of different style flags, these include:
Our Beach Flags Range including the Teardrop flag and the regular style.
Our Alu Flags range which has regular, convex and shark flag designs.
Our Alu Square flags.
We also offer a range of accessories for your advertising flags including a variety of different shaped bases such as cross base and water ring, as well as ground spikes. If you would like to know what base would be best for your event, please do not hesitate to get in touch.
Event advertising flags FAQs
What size and shape advertising flag do I need?
Shape and size are usually defined by client preference and budget, also content should be considered on the flags; for example: tear drop flags don't suit all logo/info layouts.
Do your flags come with everything I need?
All flags are supplied with everything you will need to put up your flag.
How easy is it to assemble event flags?
Event flags are incredibly easy to put together which makes them perfect for assembling and putting down before and after events.
What material are the flags made of?
All flags are manufactured from 115gsm Polyester Knit Fabric.
How are flags printed?
Flags are all printed using Dye Sublimation Process, which basically dyes the ink into the material creating a colour fast finish, this give approx. 90% show through on the reverse of the flag material.
Can I wash custom printed flags?
All of our flags can be machine washed at low temperatures without causing any damage to the print.
Do you need planning to fly a promotional event flag?
Advertising flags are covered by different rules. A flag advertising a charitable event or a promotional flag used on a forecourt may be exempt but other advertising flags may not be. Each council has its own set of rules so it is always advisable to check.